Arrangement of the installations, projection: Alicja and Mariusz Jodko
Curator: Alicja Jodko
Partnership: Dorota Hartwich
Vernissage: July 25, 2014 (8 p.m. Entropia Gallery, 9:00 p.m. cafe Cocofli)
Open hours:
July 24 - August 2, 2014, at Entropia (Mon-Fri 1:00-7:00 p.m.)
July 24 - August 3, 2014, at Cocofli (Mon-Thurs and Sun. 10:00 a.m.-midnight, Fri-Sat 10:00 a.m.-2:00 a.m.)
---
The installations are based on film recordings of regular life – ordinary and during holidays – captured on 8 and 16 mm film from the 1940s to the 1960s by two independent filmmakers.
As a professional photographer, Włodzimierz Kałdowski (born in 1923) started working with a 16 mm camera in the 1950s. His memorable moving images show wide panoramas of Wrocław and life on the streets: people walking by, now-defunct automobiles passing, trams with open doors, and smoke rising from old apartment houses.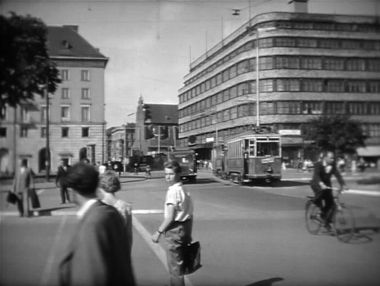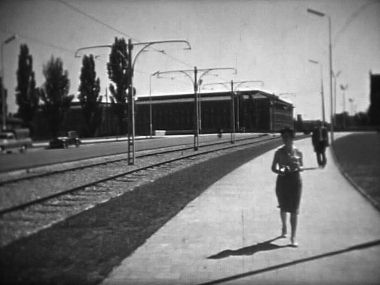 Włodzimierz Kałdowski
Bolesław Głazowski (1913-1950) observed the more intimate details of life. One of the constant themes in his films are fun-loving families with heaps of children taking trips out of town – going for picnics, taking a stroll, or just having fun. In the background can be seen the landscape of his hometown, Żory, a small city in Upper Silesia.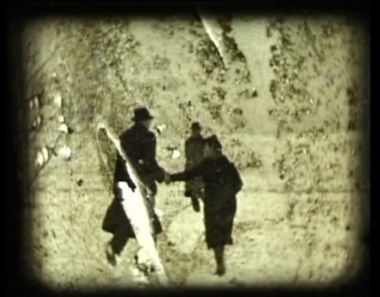 Bolesław Głazowski
The films made by both these men share sensitivity and an enthusiasm for recording that lends them a certain spirituality that it would be difficult to overstate. The installation does not link the recordings with narrative sequences; it creates a kind of environment that you can immerse yourself in and contemplate the autonomous pictures or moments captured on film. This is not cinema in the traditional understanding of the word, but rather an attempt to transfer film images into a multilayered space. The screening does not begin or end; the images intermingle, creating an evocative aura of their presence.
ENTROPIA Gallery is a place with an open program that results from the original explorations of artists and from the exploratory nature of the gallery itself. In operation since 1988, it is one of Wrocław's cultural institutions.
COCOFLI cafe and wine bar – This is what the owners have to say: "We squatted in a place not to be overlooked, in the heart of Wrocław's Mutual Respect District, where we share the things that we love: literature, art, great coffee, and good wine."